Monthly Promotion & New update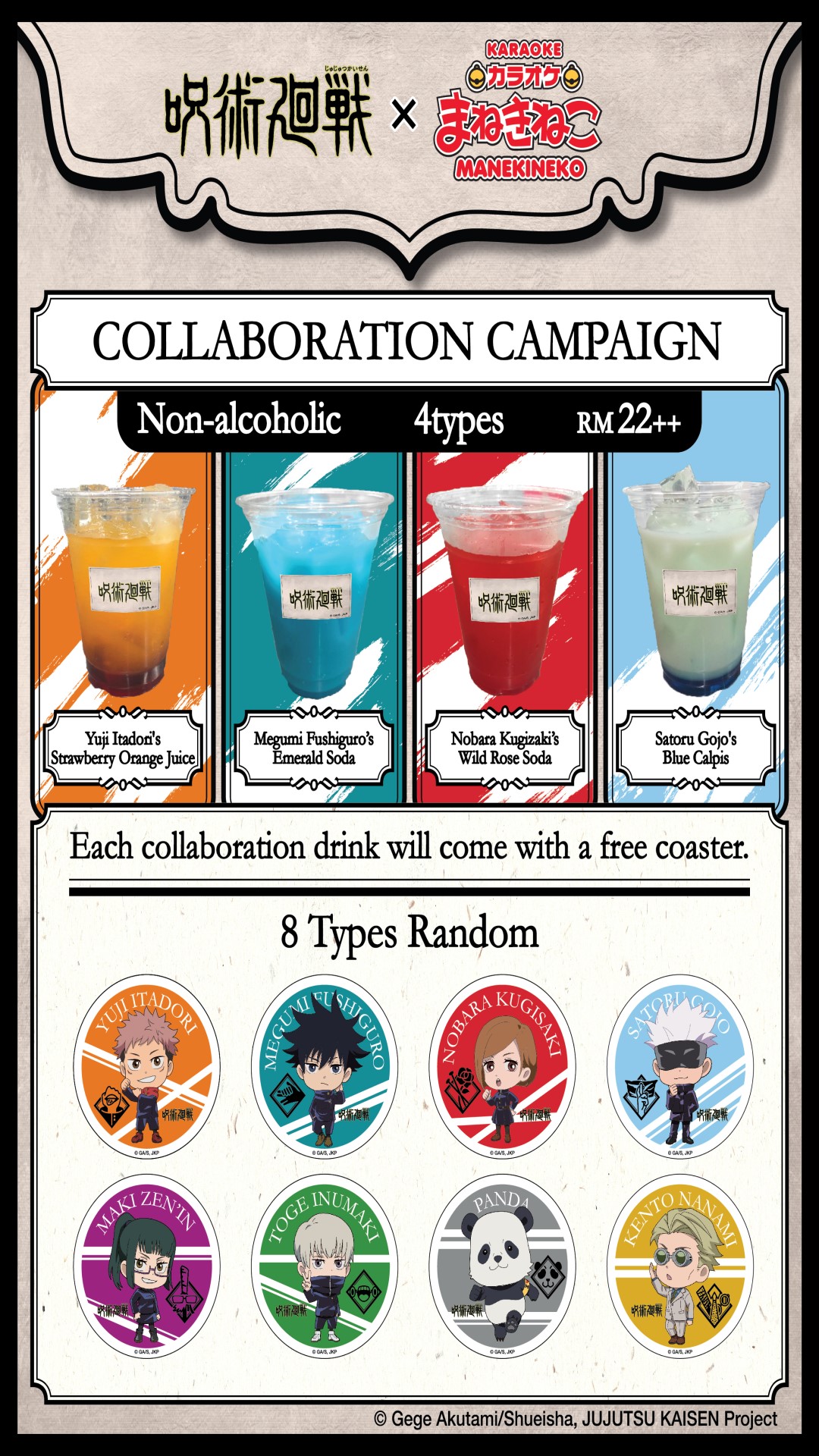 Jujutsu kaisen X Karaoke Manekineko Malaysia
𝐉𝐮𝐣𝐮𝐭𝐬𝐮 𝐊𝐚𝐢𝐬𝐞𝐧 𝐗 𝐊𝐚𝐫𝐚𝐨𝐤𝐞 𝐌𝐚𝐧𝐞𝐤𝐢𝐧𝐞𝐤𝐨 𝐌𝐚𝐥𝐚𝐲𝐬𝐢𝐚 Room and Drinks Collaboration starts on 16/09/23 (Saturday) Collaboration room reservations will start from 16/09/23 (Saturday)at 11:00 AM. 𝐅𝐨𝐫 𝐂𝐨𝐥𝐥𝐚𝐛𝐨𝐫𝐚𝐭𝐢𝐨𝐧 𝐑𝐨𝐨𝐦 𝐫𝐞𝐬𝐞𝐫𝐯𝐚𝐭𝐢𝐨𝐧𝐬, 𝐩𝐥𝐞𝐚𝐬𝐞 𝐫𝐞𝐟𝐞𝐫 𝐭𝐨 𝐨𝐮𝐭𝐥𝐞𝐭 𝐛𝐞𝐥𝐨𝐰 *𝗕𝘂𝗸𝗶𝘁 𝗕𝗶𝗻𝘁𝗮𝗻𝗴 𝟬𝟭𝟮𝟰𝟯𝟯𝟴𝟬𝟳𝟳 / 𝐰𝐡𝐚𝐭𝐬𝐚𝐩𝐩 𝐡𝐭𝐭𝐩𝐬://𝐰𝐚.𝐦𝐞/𝟔𝟎𝟏𝟐𝟒𝟑𝟑𝟖𝟎𝟕𝟕 Please note that only whatsapp/phone reservations are accepted We do not accept reservations walk in *All price are exclusive SST 6% & 10% Service Charge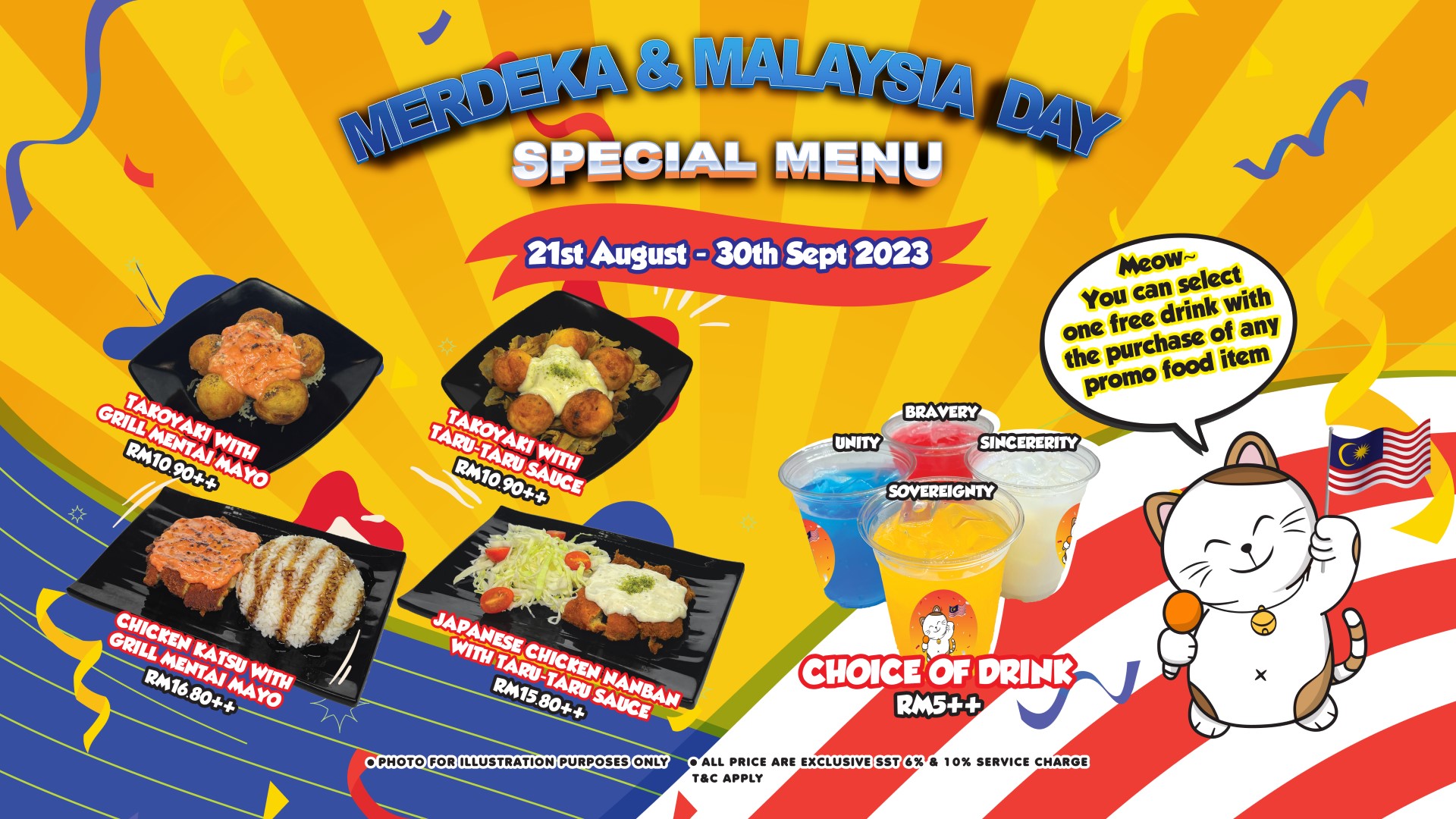 𝐌𝐞𝐫𝐝𝐞𝐤𝐚 𝐚𝐧𝐝 𝐌𝐚𝐥𝐚𝐲𝐬𝐢𝐚 𝐃𝐚𝐲 𝐰𝐢𝐭𝐡 𝐒𝐩𝐞𝐜𝐢𝐚𝐥 𝐅𝐨𝐨𝐝 𝐌𝐞𝐧𝐮
😽𝐊𝐚𝐫𝐚𝐨𝐤𝐞 𝐌𝐚𝐧𝐞𝐤𝐢𝐧𝐞𝐤𝐨 𝐌𝐚𝐥𝐚𝐲𝐬𝐢𝐚 𝐂𝐞𝐥𝐞𝐛𝐫𝐚𝐭𝐞𝐬 𝐌𝐞𝐫𝐝𝐞𝐤𝐚 𝐚𝐧𝐝 𝐌𝐚𝐥𝐚𝐲𝐬𝐢𝐚 𝐃𝐚𝐲 𝐰𝐢𝐭𝐡 𝐒𝐩𝐞𝐜𝐢𝐚𝐥 𝐅𝐨𝐨𝐝 𝐌𝐞𝐧𝐮 We are excited to announce our special menu, *𝐀𝐯𝐚𝐢𝐥𝐚𝐛𝐥𝐞 𝐟𝐫𝐨𝐦 𝟐𝟏𝐬𝐭 𝐀𝐮𝐠𝐮𝐬𝐭 𝐭𝐨 𝟑𝟎𝐭𝐡 𝐒𝐞𝐩𝐭𝐞𝐦𝐛𝐞𝐫! *𝐀𝐧𝐝 𝐧𝐨𝐰 𝐲𝐨𝐮 𝐜𝐚𝐧 𝐬𝐞𝐥𝐞𝐜𝐭 𝐨𝐧𝐞 𝐟𝐫𝐞𝐞 𝐝𝐫𝐢𝐧𝐤 𝐰𝐢𝐭𝐡 𝐚𝐧𝐲 𝐩𝐫𝐨𝐦𝐨 𝐟𝐨𝐨𝐝 𝐢𝐭𝐞𝐦 𝐨𝐫𝐝𝐞𝐫! 😺Moew! we see you in the Karaoke Manekineko!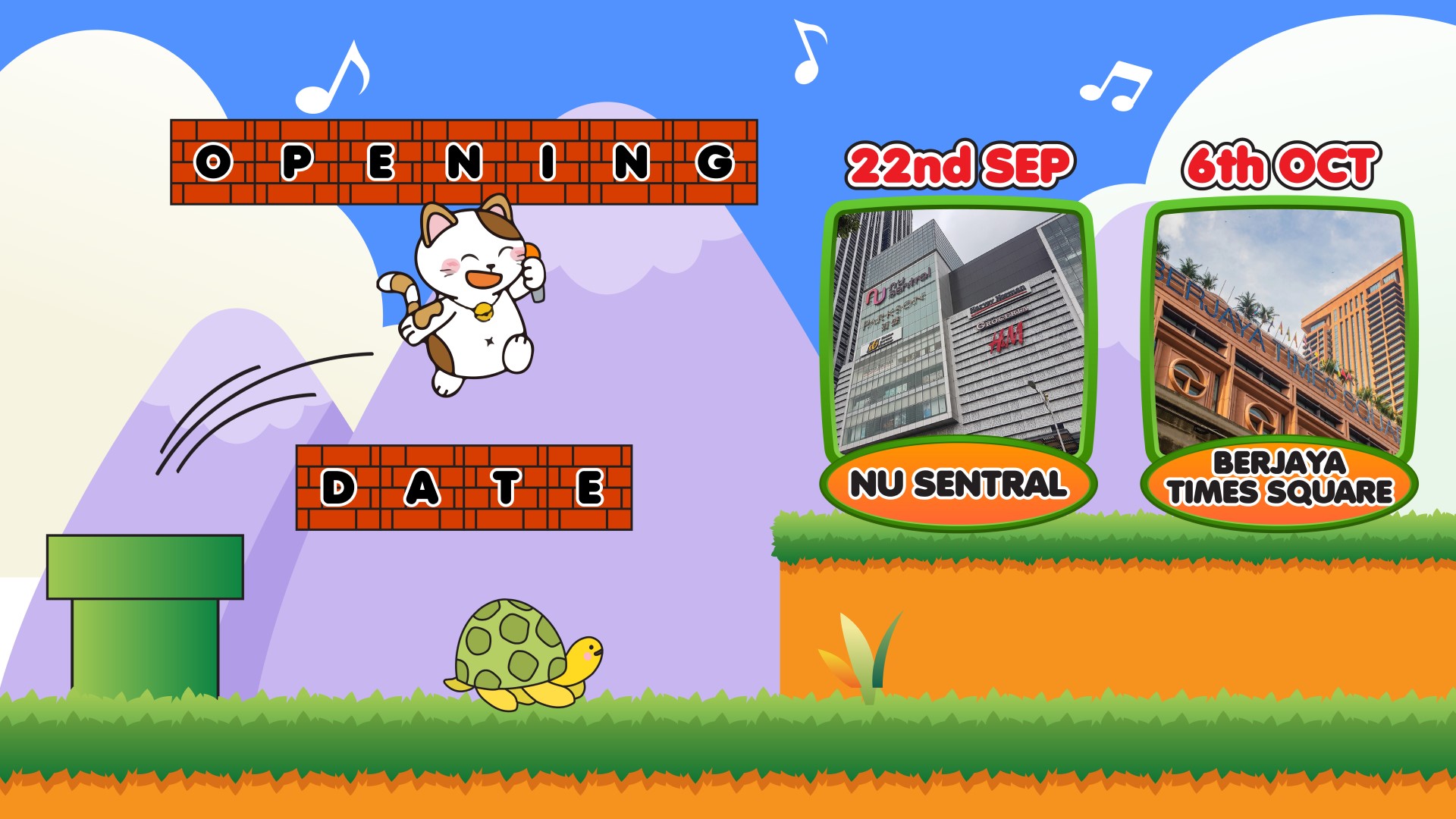 11th and 12th new outlet opening date update
😽𝐌𝐚𝐫𝐤 𝐲𝐨𝐮𝐫 𝐜𝐚𝐥𝐞𝐧𝐝𝐚𝐫𝐬! 𝟐𝟐𝐧𝐝 𝐒𝐞𝐩𝐭𝐞𝐦𝐛𝐞𝐫 𝐟𝐨𝐫 𝐍𝐮 𝐒𝐞𝐧𝐭𝐫𝐚𝐥 𝐚𝐧𝐝 𝟔𝐭𝐡 𝐎𝐜𝐭 𝐟𝐨𝐫 𝐁𝐞𝐫𝐣𝐚𝐲𝐚 𝐓𝐢𝐦𝐞𝐬 𝐒𝐪𝐮𝐚𝐫𝐞! because that's when our newest 11th and 12th outlet will be opening its doors. so you won't want to miss it!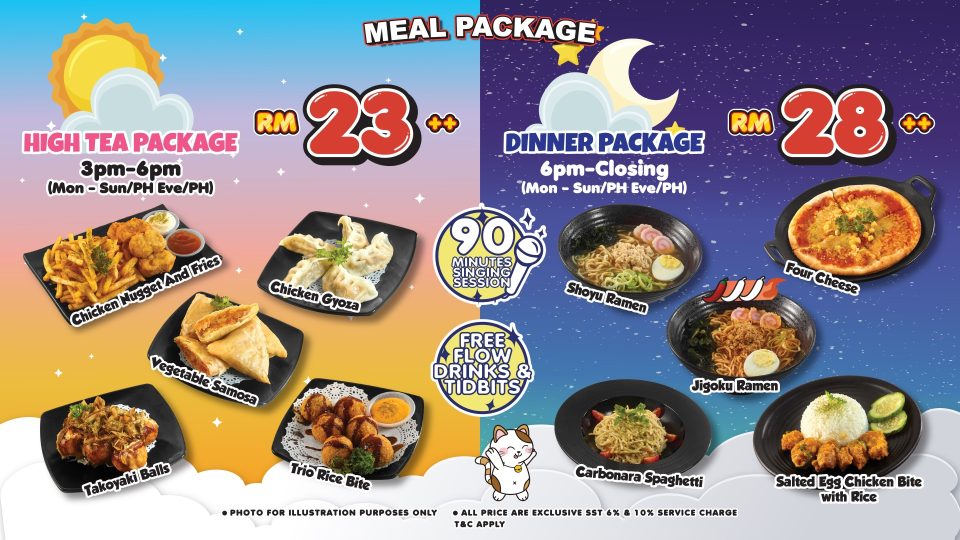 High Tea and Dinner Package
Karaoke Manekineko High Tea And Dinner Package (one meal + 90 Mins Singing Session + Free drink & Tidbits) all package exclude 10% service charge & 6% SST

Karaoke Manekineko Malaysia weekday promotion RM 9++

Karaoke Manekineko Malaysia Lunch Promotion ! Available for All Outlet !
Available from Monday - Friday (Public Holidays Excluded)

Beer Package

Soft Drink Package

Up to 1500 Anime Songs!!